Worship for the week beginning 17th July 2022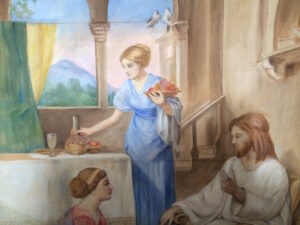 "Mary & Martha" flickr photo by giveawayboy https://flickr.com/photos/giveawayboy/22165184832 shared under a Creative Commons (BY-NC-ND) license
To listen to the sermon and a hymn dial
01604 266000.
Sunday 17th July
Local Preacher Linda Leathersich has prepared this week's message.
This short act of worship is for use from home.  Please use this service whenever you like during the week.
Pause to settle yourself in God's presence, knowing that other people are sharing in worship with you.
Download the Service Sheet
© ROOTS for Churches Ltd www.rootsontheweb.com. Reproduced with permission.
CALL TO WORSHIP
God sent his word to the Israelites, gave the good news of peace through Jesus Christ, and speaks today where Christians worship Him. Let us hear God's word for us today as we worship in spirit and truth.
Hymn – STF 157 God has spoken – by his prophets
God has spoken – by his prophets,
spoken his unchanging word:
each from age to age proclaiming
God, the one, the righteous Lord.
Mid the world's despair and turmoil
one firm anchor holding fast:
God eternal reigns forever,
God the first and God the last.
God has spoken – by Christ Jesus,
Christ the everlasting Son,
brightness of the Father's glory,
with the Father ever one;
spoken by the Word incarnate,
God from God, ere time was born;
Light from Light, to earth descending,
Christ, revealing God to all.
God is speaking – by the Spirit,
speaking to our hearts again,
to the age-long word expounding
God's own message, now as then.
Through the rise and fall of nations
one sure faith is standing fast;
God still speaks, the Word unchanging,
God the first, and God the last.
PRAYERS:
Thank you Lord for all who have spoken your Word through the ages. We thank you for the prophets of Israel who listened carefully to the Lord's voice and told the people what they must do. Thank you for Isaiah who in times of difficulty spoke words of encouragement and comfort.
We thank you for John the Baptist who was eventually killed for preaching against evil, he challenged people to repent of their sin and pointed them towards Jesus. Help us to repent of our sin and always look to Jesus that we may receive forgiveness.
We thank you for the apostles who continued Jesus' mission to the whole world. They spread your word to all people everywhere.
We thank you for Jesus, the living Word. Everything we believe is based on his truth. Words of judgement, hope, peace, joy and love flowed from his lips and come to us in the Bible, they will live for ever. Thank you that we have heard the gospel of Jesus, help us to tell others what we have heard. We offer all our prayers in the name of Jesus.
Amen.
The branch from Jesse
11 A shoot will come up from the stump of Jesse;
    from his roots a Branch will bear fruit.
2 The Spirit of the Lord will rest on him –
    the Spirit of wisdom and of understanding,
    the Spirit of counsel and of might,
    the Spirit of the knowledge and fear of the Lord –
3 and he will delight in the fear of the Lord.
He will not judge by what he sees with his eyes,
    or decide by what he hears with his ears;
4 but with righteousness he will judge the needy,
    with justice he will give decisions for the poor of the earth.
He will strike the earth with the rod of his mouth;
    with the breath of his lips he will slay the wicked.
5 Righteousness will be his belt
    and faithfulness the sash round his waist.
6 The wolf will live with the lamb,
    the leopard will lie down with the goat,
the calf and the lion and the yearling together;
    and a little child will lead them.
7 The cow will feed with the bear,
    their young will lie down together,
    and the lion will eat straw like the ox.
8 The infant will play near the cobra's den,
    and the young child will put its hand into the viper's nest.
9 They will neither harm nor destroy
    on all my holy mountain,
for the earth will be filled with the knowledge of the Lord
    as the waters cover the sea.
The year of the 

Lord

's favour
61 The Spirit of the Sovereign Lord is on me,
    because the Lord has anointed me
    to proclaim good news to the poor.
He has sent me to bind up the broken-hearted,
    to proclaim freedom for the captives
    and release from darkness for the prisoners,
2 to proclaim the year of the Lord's favour
    and the day of vengeance of our God,
to comfort all who mourn,
3     and provide for those who grieve in Zion –
to bestow on them a crown of beauty
    instead of ashes,
the oil of joy
    instead of mourning,
and a garment of praise
    instead of a spirit of despair.
They will be called oaks of righteousness,
    a planting of the Lord
    for the display of his splendour.
4 They will rebuild the ancient ruins
    and restore the places long devastated;
they will renew the ruined cities
    that have been devastated for generations.
5 Strangers will shepherd your flocks;
    foreigners will work your fields and vineyards.
6 And you will be called priests of the Lord,
    you will be named ministers of our God.
You will feed on the wealth of nations,
    and in their riches you will boast.
7 Instead of your shame
    you will receive a double portion,
and instead of disgrace
    you will rejoice in your inheritance.
And so you will inherit a double portion in your land,
    and everlasting joy will be yours.
8 'For I, the Lord, love justice;
    I hate robbery and wrongdoing.
In my faithfulness I will reward my people
    and make an everlasting covenant with them.
9 Their descendants will be known among the nations
    and their offspring among the peoples.
All who see them will acknowledge
    that they are a people the Lord has blessed.'
10 I delight greatly in the Lord;
    my soul rejoices in my God.
For he has clothed me with garments of salvation
    and arrayed me in a robe of his righteousness,
as a bridegroom adorns his head like a priest,
    and as a bride adorns herself with her jewels.
11 For as the soil makes the young plant come up
    and a garden causes seeds to grow,
so the Sovereign Lord will make righteousness
    and praise spring up before all nations.
At the home of Martha and Mary
38 As Jesus and his disciples were on their way, he came to a village where a woman named Martha opened her home to him. 39 She had a sister called Mary, who sat at the Lord's feet listening to what he said. 40 But Martha was distracted by all the preparations that had to be made. She came to him and asked, 'Lord, don't you care that my sister has left me to do the work by myself? Tell her to help me!'
41 'Martha, Martha,' the Lord answered, 'you are worried and upset about many things, 42 but few things are needed – or indeed only one. Mary has chosen what is better, and it will not be taken away from her.'
Holy Bible, New International Version® Anglicized, NIV® Copyright © 1979, 1984, 2011 by Biblica, Inc.® Used by permission. All rights reserved worldwide.
MESSAGE
God has always spoken to his children, the Bible is full of messages from God. He used people to pass on his messages about how we should live. His promises and plans are all written for us to read. The whole of the OT is pointing us forward to the coming of Jesus – God's ultimate message, his word made flesh to dwell among us.
Isaiah is a very long book with so much material to study, so many messages throughout – it is a book so often quoted in the NT, quotes that we all recognise.
Isaiah talks of Kingship. Kings were important as violence and chaos happened when Israel did not have a king, but, earthly kings had proved that they were fallible and people thought that God had forgotten his promise about Kings from David's line. In Is.11 v 1-9 we read that the promise is not forgotten there would be a new king coming from the Davidic line – a special king who would be perfect in all ways. From the earliest days the coming of the Messiah, the King of Kings was prophesied. When Jesus read from the scroll in the synagogue and chose to read from Is.61, he read the words and said that he fulfilled that prophecy, the Messiah, the King of Kings was right there in front of them.
But Jesus did not come to be the usual sort of King, he came to serve and to carry out his Father's will and that meant that he would be despised, mocked, beaten and crucified – he was the servant king, a faithful, suffering servant. Jesus never said that following him would be easy. We have to constantly listen to what God is asking us to do and then we have to make the choice of how we respond knowing that it might lead to hardship.
The Gospel reading set for today tells of Jesus visiting the home of Mary and Martha.
Both women were delighted to welcome Jesus to their home,
Mary chose to sit at his feet and listen to him. Martha was rushing around preparing food, she was upset that Mary wasn't helping her and she went to Jesus, hoping he would tell Mary to help her sister but Jesus said Mary had chosen the right thing. Being a faithful servant of God demands we get the right balance in our own lives.
Mother Julian of Norwich says we all need "detachment" and "participation" as part of our everyday lives. We need "detachment", away from the noise of the world to sit and listen to God and then as we receive strength and peace from that, we need "participation" in the practical service of God in our world. Always listening or always working with no time listening to God doesn't work, we need both. Jesus regularly took himself to a place of quiet to talk to God and then came back to serve everyone.
Isaiah and the prophets listened to God and they passed on his words to the people which often made them very unpopular. Isaiah passed on God's promises, hard times would come, particularly to those who ignored God, but there was always Hope – the Messiah would come and bring light to the dark world. He would be a faithful servant King who would suffer and be put to death, but he would be raised again and his suffering would bring healing for everyone. We need to get our balance right and spend quiet times with God each day so that we have the guidance and strength to be faithful servants always.
Prayers of Intercession:
Gracious God, it is our privilege to come to you with our concerns for others knowing that you are always ready to listen.
We pray for our churches and for this circuit as we move towards a time of great challenge and change. Help us to always listen to you so that we are always a beacon attracting others to learn more of you and your love.
We pray for our own family and friends. We pause and name in our hearts any we know who have particular worries or health issues at this time. Many feel stressed as result of work, exams at school and college, money problems or loneliness, we remember all who are struggling at this time and need love and friendship right now wherever they are in the world.
We pray for ourselves that we might get our priorities right and show by our lives that we are your faithful servants, give us the strength to do your will.
Lord every person we have named in our hearts is known and loved by you. We entrust them to your loving care knowing you have promised to be near to each of us. We ask all our prayers in the name of Jesus. Amen.


Please use the version that you prefer
Our Father, who art in heaven,
hallowed be thy Name,
thy kingdom come,
thy will be done,
on earth as it is in heaven.
Give us this day our daily bread.
And forgive us our trespasses,
as we forgive those who trespass against us.
And lead us not into temptation,
but deliver us from evil.
For thine is the kingdom,
the power, and the glory,
for ever and ever.
Amen.
Our Father in heaven,
Hallowed be your name,
Your kingdom come,
Your will be done,
On earth as in heaven.
Give us today our daily bread.
Forgive us our sins
As we forgive those who sin against us.
Save us from the time of trial
And deliver us from evil.
For the kingdom, the power
and the glory are yours
Now and for ever.
Amen.
HYMN - STF 156 From the breaking of the dawn
From the breaking of the dawn to the setting of the sun,
I will stand on every promise of your word, Words of power, strong to save, that will never pass away;
I will stand on every promise of your word.
For your covenant is sure, and on this I am secure: I can stand on every promise of your word.
When I stumble and I sin, condemnation pressing in,
I will stand on every promise of your word.
You are faithful to forgive, that in freedom I might live, so I stand on every promise of your word.
Guilt to innocence restored; you remember sins no more. So, I'll stand on every promise of your word.
When I'm faced with anguished choice, I will listen to your voice, and I'll stand on every promise of your word.
Through this dark and troubled land, you will guide me with your hand as I stand on every promise of your word.
And you've promised to complete every work begun in me.
So I'll stand by every promise of your word.
Hope that lifts me from despair; love that casts out every fear as I stand on every promise of your word.
Not forsaken, not alone, for the Comforter has come and I stand on every promise of your word. Grace sufficient, grace for me, grace for all who will believe. We will stand on every promise of your word.
Blessing
May the blessing of God be with us each day.
Amen.
Service prepared by Linda Leathersich
Webpage: Paul Deakin