Worship for the week beginning 10th July 2022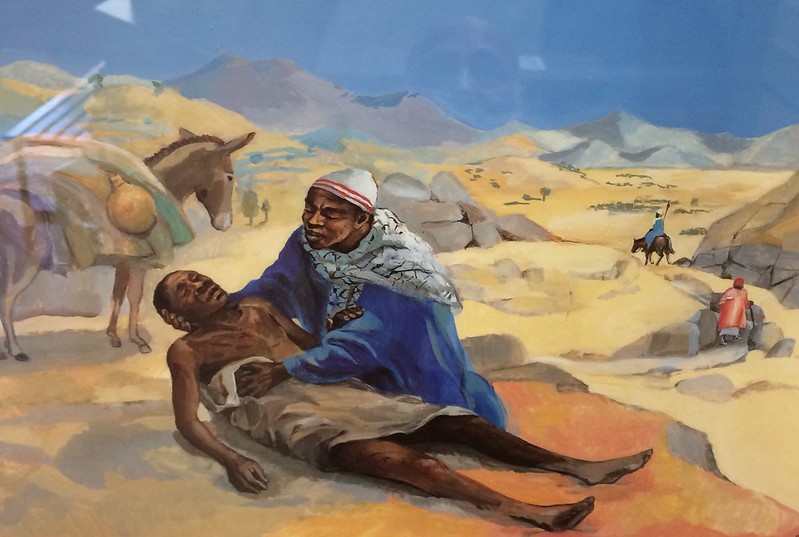 flickr photo by tim kubacki https://flickr.com/photos/timkubacki/10724062065 shared under a Creative Commons (BY) license
To listen to the sermon and a hymn dial
01604 266000.
Sunday 10th July
Rev Francis M'Itiiri has prepared this week's message.
This short act of worship is for use from home.  Please use this service whenever you like during the week.
Pause to settle yourself in God's presence, knowing that other people are sharing in worship with you.
Download the Service Sheet
© ROOTS for Churches Ltd www.rootsontheweb.com. Reproduced with permission.
Gathering of God's people.
Call to worship;
Psalm 25:1 To you, O Lord, I lift up my soul.
O my God, in you I trust; do not let me be put to shame; do not let my enemies exult over me. Do not let those who wait for you be put to shame
Opening Prayer:
Loving God, we come from scattered lives to meet in worship to the praise of your holy name. Lord of justice and mercy, at the opening of this day, you called us out of darkness into your marvellous light, we come to you this day. May we be drawn by your healing spirit and be able to fully serve you. Amen.
Hymn: STF 481: The Lord's My Shepherd
The Lord's my shepherd, I'll not want;
He makes me lie in pastures green.
He leads me by the still, still waters,
His goodness restores my soul.
And I will trust in You alone,
And I will trust in You alone,
For Your endless mercy follows me,
Your goodness will lead me home.
He guides my ways in righteousness,
And he anoints my head with oil;
And my cup, it overflows with joy,
I feast on his pure delights.
And though I walk the darkest path,
I will not fear the evil one,
For You are with me, and your rod and staff
Are the comfort I need to know.
The parable of the good Samaritan
25 On one occasion an expert in the law stood up to test Jesus. 'Teacher,' he asked, 'what must I do to inherit eternal life?'
26 'What is written in the Law?' he replied. 'How do you read it?'
27 He answered, '"Love the Lord your God with all your heart and with all your soul and with all your strength and with all your mind"; and, "Love your neighbour as yourself."'
28 'You have answered correctly,' Jesus replied. 'Do this and you will live.'
29 But he wanted to justify himself, so he asked Jesus, 'And who is my neighbour?'
30 In reply Jesus said: 'A man was going down from Jerusalem to Jericho, when he was attacked by robbers. They stripped him of his clothes, beat him and went away, leaving him half-dead. 31 A priest happened to be going down the same road, and when he saw the man, he passed by on the other side. 32 So too, a Levite, when he came to the place and saw him, passed by on the other side. 33 But a Samaritan, as he travelled, came where the man was; and when he saw him, he took pity on him. 34 He went to him and bandaged his wounds, pouring on oil and wine. Then he put the man on his own donkey, brought him to an inn and took care of him. 35 The next day he took out two denarii and gave them to the innkeeper. "Look after him," he said, "and when I return, I will reimburse you for any extra expense you may have."
36 'Which of these three do you think was a neighbour to the man who fell into the hands of robbers?'
37 The expert in the law replied, 'The one who had mercy on him.'
Jesus told him, 'Go and do likewise.'
Holy Bible, New International Version® Anglicized, NIV® Copyright © 1979, 1984, 2011 by Biblica, Inc.® Used by permission. All rights reserved worldwide.
Reflecting from the Gospel Luke 10: 25-37
The story of the Good Samaritan
When one reads this parable the question that comes to mind is, what has a thousand-year-old story to do with us? Well, like any other parable, Jesus used this story to teach us lessons about life and about God. Often in this life there has been many good Samaritans that you might have come across, who in peculiar situations, stopped to help you and you either know who they were or you have no clue and you, perhaps will never see them again in this life to connect and express your gratitude. Well the Good Samaritan was not expecting anything in return from the wounded man.  He helped because it was the right thing for him to do. Just as it says in Swahili saying, 'TENDA VYIEMA NEED ZAKO'. (Do good and go your way). Perhaps most of us help because we expect a reward of some sort. We return a lost wallet and expect the owner to reward us. We help our friends because we assume that they'll also help us when we are in need.
This story provides us with some amazing valuable lessons that relate so much to life today:
First, ignoring others in need, is not a good sign of being a good neighbour. And if it was, then during these current times, social media would not circulate photos of a man who was close to death, before he even gets to the hospital.  Quite often we have seen recorded video clips of people in trouble, often to the point of death, while the person doing the video coverage literally does nothing
The fascinating thing about the Good Samaritan, is that he couldn't care less about the race of the wounded man. He showed us that racism has no place in the work of charity. And also, we should help others regardless of where they come from or what they believe in. for we all belong to the same race: of humanity.
The civil rights activist Martin Luther King Jr. famously said of the parable of the Good Samaritan: "I imagine that the first question the priest and Levite asked was: 'If I stop to help this man, what will happen to me?' But by the very nature of his concern, the Good Samaritan reversed the question: 'If I do not stop to help this man, what will happen to him?"
Judy Ponio, Author of 'our father's house soup kitchen' has highlighted several reasons why the Priest and the Levite did not stop to help the man. In everything there is a common sense, intuition, and spiritual intelligence to apply. What would you have done yourself?
It serves well, to remember that there are always good reasons why we would pass by on the other side. But whatever the case, the wounded man in the parable, would be delighted to have a Good Samaritan bring him relief. And this is where as Christians we would be happy to be in that position.
Prayers of Solidarity with others In Need
God most gracious, at a time of despair, restless with grief and fear, in abandonment, we turn to you. In every hour of trial, good Lord, deliver those in need especially those severely displaced by conflict, violence and war around the world.
Today we remember to pray for the safety and mental health of those who work in emergency services, the paramedics and ambulance staff.  The 999 call handlers and their families. That Lord you will protect them from all harm.
Gracious God heal the afflicted
We pray for volunteers who work with different humanitarian agencies to deliver supplies around the world, soldiers in the battlefield, that God you will surround them with your spiritual intelligence to know when to act.  We remember to pray for all those who work and guard our waters. , As Seafarers are observed the week of July 3rd, may we pray to those working in maritime, fishing, and in the shipping industry, we pray for those who operate small boats, container and carrier ships and work for many days and months away from their families.  We pray for them and their loved ones, as they are always fondly missed.
Gracious God heal the afflicted.
We pray for those in places of leadership and power to stop these wars and the influx of guns with the wrong people.  As we observe Action for Children on July 10th, we remember those who are grieving for the death of their loved ones, children and teachers who died in a Texas Elementary School, soldiers, volunteers, journalists, and innocent civilians God grant peace to the afflicted
We pray for all those working in rural industries and churches in rural areas. And as we observe rural mission Sunday on 17th July, Let us remember that rural farmers and churches face huge challenges. Today we pray for the work done by the ecumenical rural mission teams and: the work Arthur Rank Centre does. By encouraging farmers and rural churches on how best to strengthen mission work among the rural churches.
Gracious God bless us and give us the resources to support mission work in rural village churches.
Amen.
Please use the version that you prefer
Our Father, who art in heaven,
hallowed be thy Name,
thy kingdom come,
thy will be done,
on earth as it is in heaven.
Give us this day our daily bread.
And forgive us our trespasses,
as we forgive those who trespass against us.
And lead us not into temptation,
but deliver us from evil.
For thine is the kingdom,
the power, and the glory,
for ever and ever.
Amen.
Our Father in heaven,
Hallowed be your name,
Your kingdom come,
Your will be done,
On earth as in heaven.
Give us today our daily bread.
Forgive us our sins
As we forgive those who sin against us.
Save us from the time of trial
And deliver us from evil.
For the kingdom, the power
and the glory are yours
Now and for ever.
Amen.
Hymn: STF 161: Speak, O Lord, as we come to You
Speak, O Lord, as we come to you
To receive the food of Your Holy Word
Take Your truth, plant it deep in us
Shape and fashion us in your likeness
That the light of Christ might be seen today
In our acts of love and our deeds of faith
Speak, O Lord, and fulfil in us
All Your purposes for your glory
Teach us Lord, full obedience
Holy reverence, true humility
Test our thoughts and our attitudes
in the radiance of your purity
Cause our faith to rise, cause our eyes to see
your majestic love and authority
Words of power that can never fail
let their truth prevail over unbelief
Speak, O Lord, and renew our minds;
Help us grasp the heights of your plans for us
Truths unchanged from the dawn of time
That will echo down through eternity
And by grace we'll stand on your promises
And by faith we'll walk as you walk with us
Speak, O Lord, till Your Church is built
And the earth is filled with Your glory.
A prayer of blessing
Let us embrace the work and wonder of this day with fresh commitment. May we go forward together in the power of the love of God in the company of Jesus Christ and by the leading of the Holy Spirit.
Amen.
Service prepared by Rev Francis M'Itiiri
Webpage: Paul Deakin