Worship for the week beginning 3rd July 2022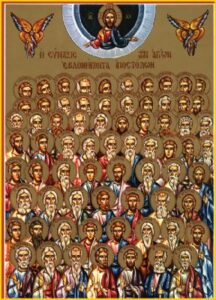 To listen to the sermon and a hymn dial
01604 266000.
Sunday 3rd July
Rev David Speirs has prepared this week's message.
This short act of worship is for use from home.  Please use this service whenever you like during the week.
Pause to settle yourself in God's presence, knowing that other people are sharing in worship with you.
Download the Service Sheet
© ROOTS for Churches Ltd www.rootsontheweb.com. Reproduced with permission.
Opening Prayer:
Blessed are you, Lord our God!
Glorious is your name in all the earth!
We celebrate who you are,
and all that you have done for us.
Be present among us as we worship you,
and as we open ourselves to your Word.
To you be all glory, now and forever.
Amen
All people that on earth do dwell.
All people that on earth do dwell
Sing to the Lord with cheerful voice
Serve him with joy his praises tell
Come now before him and rejoice.

Know that the Lord is God indeed
He formed us all without our aid
We are the flock he comes to feed
The sheep who by his hand were made.

[Refrain]
O let the earth rejoice
Lift up your voice and magnify his holy name.
O let the earth rejoice
Lift up your voice and magnify his holy name.

O enter then his gates with joy
Within his courts his praise proclaim
Let thankful songs your tongues employ
O bless and magnify his name. [Refrain]

Because the Lord our God is good
His mercy is forever sure
His faithfulness at all times stood
And shall from age to age endure. [Refrain]

Praise God from whom all blessings flow
Praise him all creatures here below
Praise him above ye heavenly host
Praise Father Son and Holy Ghost.
Alanna Glover, Louis Bourgeois, William Kethe.
Emu Music, © 2018
Luke 10: 1-11, 16-20
The Mission of the Seventy
After this the Lord appointed seventy others and sent them on ahead of him in pairs to every town and place where he himself intended to go. He said to them, 'The harvest is plentiful, but the labourers are few; therefore ask the Lord of the harvest to send out labourers into his harvest. Go on your way. See, I am sending you out like lambs into the midst of wolves. Carry no purse, no bag, no sandals; and greet no one on the road. Whatever house you enter, first say, "Peace to this house!" And if anyone is there who shares in peace, your peace will rest on that person; but if not, it will return to you. Remain in the same house, eating and drinking whatever they provide, for the labourer deserves to be paid. Do not move about from house to house. Whenever you enter a town and its people welcome you, eat what is set before you; cure the sick who are there, and say to them, "The kingdom of God has come near to you." But whenever you enter a town and they do not welcome you, go out into its streets and say, "Even the dust of your town that clings to our feet, we wipe off in protest against you. Yet know this: the kingdom of God has come near."
'Whoever listens to you listens to me, and whoever rejects you rejects me, and whoever rejects me rejects the one who sent me.'
The Return of the Seventy
The seventy returned with joy, saying, 'Lord, in your name even the demons submit to us!' He said to them, 'I watched Satan fall from heaven like a flash of lightning. See, I have given you authority to tread on snakes and scorpions, and over all the power of the enemy; and nothing will hurt you. Nevertheless, do not rejoice at this, that the spirits submit to you, but rejoice that your names are written in heaven.'
New Revised Standard Version Bible: Anglicized Edition, copyright © 1989, 1995 National Council of the Churches of Christ in the United States of America. Used by permission. All rights reserved worldwide. http://nrsvbibles.org
Over the past few months I have had the privilege of leading an Alpha course at Towcester Road Methodist Church, which has given us the opportunity to explore our faith and deepen our understanding of God. As part of that course we have learnt about the importance of sharing our faith with others so that they might come to know the great love that God has for them shown in the life, death, and the resurrection of Jesus.
The Gospel passage that we have for this Sunday describes how Jesus sent out seventy-two of his disciples, in pairs, to spread the good news of the Kingdom of God. These disciples, likely to include both women and men, represent a much larger group than the apostles and are a foretaste of the future Church that would be commissioned to spread the good news of Jesus. These seventy-two disciples are sent out to offer and declare peace (shalom or eirēnē) to those who receive them; a term that connetates restoration, wholeness, and is linked to salvation. Furthermore, they are asked to offer healing and to announce the coming of God's Kingdom. Jesus, however, also warns those he sends that they may face risks and dangers and so counsels them to travel lightly on their journeys.
When the disciples who are sent out return to Jesus they share with him their joy and amazement at what has happened in his name. However, Jesus reminds them that though they have been offered great power their rejoicing should come from the knowledge that their names are written in heaven (Luke 10:20). The joy is in being children of God.
This passage reminds us that we are all called, as disciples of Jesus, to share the good news with those whom we know and encounter. We do this by offering peace, healing, and the knowledge of God's Kingdom.
We may sometimes struggle with this, but with the help of the Holy Spirit we can find the words and the actions that would help people come to know God and the love of Christ.
The participants in the Alpha Course have told us how it has helped them in the renewal of their faith. The Holy Spirit away day, in particular, had led to a greater awareness of the Holy Spirit and his work in them and the Church. Yet the greatest gift was the reminder of how much they were each loved by God in Christ. Knowing that we have a place in the Kingdom of God and knowing that we are loved should be our greatest joy. That joy leads us into serving. God equips us with his Spirit so that we might share his love with others. So let us pray that God's Spirit might help us in that task: To share the love of Christ, offer good news, and rejoice in his peace.
Time to Pray…
Holy God, renew the life and faith of the Church; strengthen our witness;
and make us one in Christ.
Grant that we and all who confess that Christ is Lord may be faithful in your service
and filled with the Spirit,
that the world may be turned to you.
Guide the nations
in the ways of justice, liberty and peace;
and help them to seek
the unity and welfare of all people.
Give to all in authority wisdom to know and strength to do what is right.
Comfort those in sorrow;
heal the sick in body or in mind
and deliver the oppressed.
Grant us compassion for all who suffer,
and help us so to carry one another's burdens
that we may fulfil the law of Christ.
Receive our thanks and praise
for all who have served you faithfully here on earth, and especially those who have revealed to us your grace in Christ.
May we and all your people
share the life and joy of your kingdom;
through Jesus Christ our Lord.
Amen.
Prayers of Intercession, Service for times of renewal in the Church, © 1999 Methodist Worship Book.


Please use the version that you prefer
Our Father, who art in heaven,
hallowed be thy Name,
thy kingdom come,
thy will be done,
on earth as it is in heaven.
Give us this day our daily bread.
And forgive us our trespasses,
as we forgive those who trespass against us.
And lead us not into temptation,
but deliver us from evil.
For thine is the kingdom,
the power, and the glory,
for ever and ever.
Amen.
Our Father in heaven,
Hallowed be your name,
Your kingdom come,
Your will be done,
On earth as in heaven.
Give us today our daily bread.
Forgive us our sins
As we forgive those who sin against us.
Save us from the time of trial
And deliver us from evil.
For the kingdom, the power
and the glory are yours
Now and for ever.
Amen.
STF 404 - God's Spirit is in my heart
God's Spirit is in my heart
He has called me and set me apart.
This is what I have to do,
what I have to do.

[Refrain]
He sent me to give the good news to the poor
tell prisoners that they are prisoners no more
tell blind people that they can see
and set the down trodden free
and go tell everyone the news that the
kingdom of God has come
and go tell everyone
the news that God's kingdom has come.

Just as the Father sent me so
I'm sending you out to be,
my witnesses throughout the world,
the whole of the world. [Refrain]

Don't carry a load in your pack,
you don't need two shirts on your back
a workman can earn his own keep,
can earn his own keep. [Refrain]

Don't worry what you have to say,
don't worry because on that day
God's spirit will speak in your heart
will speak in your heart. [Refrain]


By Alan T Dale and Hubert Richards.
Words & Music © 1969 Vanguard Music Corp.
Final Prayer
We commit ourselves to serving you Holy God; in the knowledge of your presence and your great love for us in Jesus Christ, offered to us through your Holy Spirit. May the blessing of God: Father, Son, and Holy Spirit, be with us all, evermore.
Amen.
Service prepared by Rev David Speirs
Webpage: Paul Deakin