Worship for the week beginning 16th May 2021
To listen to the sermon and a hymn dial
01604 266000.
Sunday 16th May
Rev Francis M'Itiiri has prepared this week's message
This short act of worship is for use from home.  Please use this service whenever you like during the week.
Pause to settle yourself in God's presence, knowing that other people are sharing in worship with you.
Download the Service Sheet
© ROOTS for Churches Ltd www.rootsontheweb.com. Reproduced with permission.
Call to worship and the Gathering of God's People
The bolded words below are for responses
Greeting: Christ is risen!
The Lord is risen indeed! Alleluia!
We have come together, in the name of Christ, to offer our praise and thanksgiving, to hear and receive God's holy word,
Psalm 84:1-2
How lovely is your dwelling place, Lord Almighty! My soul yearns, even faints, for the courts of the Lord; my heart and my flesh cry out for the living God. Amen.
O Lord, open our lips,
and our mouth will proclaim your praise.
Amen.
'God Is for Us'' by City Alight
We won't fear the battle, we won't fear the night.
We will walk the valley with You by our side.
You will go before us; you will lead the way.
We have found a refuge, only You can save.
Sing with joy now, our God is for us!
The Father's love is a strong and mighty fortress.
Raise your voice now, no love is greater!
Who can stand against us if our God is for us
Even when I stumble, even when I fall.
Even when I turn back, still Your love is sure.
You will not abandon; you will not forsake.
You will cheer me onward with never-ending grace (repeat).
Neither height nor depth can separate us
Hell, and death will not defeat us!
He who gave His son to free us.
Holds me in His love (repeat).
Prayers of confessions.
You call us to proclaim a gospel we find difficult to practice.
Forgive us, God of Light.
Fill us with the healing presence of your Spirit, that we may participate in the life
and suffering of our world,
as Christ, our Lord and Saviour did
through the lives we lead.
Amen.
Worthy Is the Lamb-Brooklyn Tabernacle Choir
Thank you for the cross Lord.
Thank you for the price You paid.
Bearing all my sin and shame
In love You came and gave amazing grace
Thank you for this love Lord.
Thank you for the nail pierced hands.
Washed me in Your cleansing flow.
Now all I know Your forgiveness and embrace.
Worthy is the Lamb.
Seated on the throne.
Crown You now with many crown
You reign victorious.
High and lifted up.
Jesus, Son of God
The Treasure of Heaven crucified
Worthy is the Lamb.
Worthy is the Lamb.
by brooklyn tabernacle choir
Bible Readings
38 Esau said to his father, 'Do you have only one blessing, my father? Bless me too, my father!' Then Esau wept aloud.
39 His father Isaac answered him,
'Your dwelling will be
away from the earth's richness,
away from the dew of heaven above.
40 You will live by the sword
and you will serve your brother.
But when you grow restless,
you will throw his yoke
from off your neck.'
41 Esau held a grudge against Jacob because of the blessing his father had given him. He said to himself, 'The days of mourning for my father are near; then I will kill my brother Jacob.'
42 When Rebekah was told what her elder son Esau had said, she sent for her younger son Jacob and said to him, 'Your brother Esau is planning to avenge himself by killing you. 43 Now then, my son, do what I say: flee at once to my brother Laban in Harran.
10 Jacob left Beersheba and set out for Harran. 11 When he reached a certain place, he stopped for the night because the sun had set. Taking one of the stones there, he put it under his head and lay down to sleep. 12 He had a dream in which he saw a stairway resting on the earth, with its top reaching to heaven, and the angels of God were ascending and descending on it. 13 There above it stood the Lord, and he said: 'I am the Lord, the God of your father Abraham and the God of Isaac. I will give you and your descendants the land on which you are lying. 14 Your descendants will be like the dust of the earth, and you will spread out to the west and to the east, to the north and to the south. All peoples on earth will be blessed through you and your offspring. 15 I am with you and will watch over you wherever you go, and I will bring you back to this land. I will not leave you until I have done what I have promised you.'
16 When Jacob awoke from his sleep, he thought, 'Surely the Lord is in this place, and I was not aware of it.'
Jesus prays for his disciples
6 'I have revealed you to those whom you gave me out of the world. They were yours; you gave them to me and they have obeyed your word. 7 Now they know that everything you have given me comes from you. 8 For I gave them the words you gave me and they accepted them. They knew with certainty that I came from you, and they believed that you sent me. 9 I pray for them. I am not praying for the world, but for those you have given me, for they are yours. 10 All I have is yours, and all you have is mine. And glory has come to me through them. 11 I will remain in the world no longer, but they are still in the world, and I am coming to you. Holy Father, protect them by the power of your name, the name you gave me, so that they may be one as we are one. 12 While I was with them, I protected them and kept them safe by that name you gave me. None has been lost except the one doomed to destruction so that Scripture would be fulfilled.
13 'I am coming to you now, but I say these things while I am still in the world, so that they may have the full measure of my joy within them. 14 I have given them your word and the world has hated them, for they are not of the world any more than I am of the world. 15 My prayer is not that you take them out of the world but that you protect them from the evil one. 16 They are not of the world, even as I am not of it. 17 Sanctify them by the truth; your word is truth. 18 As you sent me into the world, I have sent them into the world. 19 For them I sanctify myself, that they too may be truly sanctified.
Holy Bible, New International Version® Anglicized, NIV® Copyright © 1979, 1984, 2011 by Biblica, Inc.® Used by permission. All rights reserved worldwide.
Time To Reflect: Encountering God.
This story about Jacob's ladder is one of those passages in the bible that you might know so well. In nutshell, Jacob leaves home and flees for his life. And that is where we pick up the story. In his run, he is scared, tired, lonely, carrying a deep pain inside, feeling guilty, and remorseful for what he has done. His mother Rebekah rescues him with an idea, that am not sure of its relevance and implication to modern realities. I am not sure what the experiences of the lockdown are or what they have brought you into. While emerging from the lockdown, there are those who will likely find themselves with wounds of pain during the lockdown that range from psychological, social, economic, and issues to do with matters of faith.
Jacob found himself in a position of life we would call ''dark corner',' and exhausted. Essentially, Jacob requires a healing encounter. But in this passage, it does not give us any clue on what Jacobs's destiny might look like!. what it reminds us though, is that like Jacob, every person is  on a journey that sometimes find yourself drifting away from that way of our journey. Genesis Chapter 27: v11. His journey had come to a temporary stagnation.
Am not sure where you are stuck, tired with some things in this life. Jacob was not expecting anything to happen. At times we find ourselves at the verge of life. Surrendering to the fate, as In Swahili, ''liwe, liwalo'!  He had no desire to meet with God at this point in his life. Are you so embarrassed in life and embarrassed encountering God? What we see in Jacob's journey was the concern for survival. In his expedition, he left traces of people he hurt so much as he climbed the ''ladders of this life''. As the story unfolds, Jacob left Beersheba and started towards Haran. At sunset, he came to a certain place, exhausted he takes a break in an unknown place and catches a dream as he camped there for the night. He is afraid of his brother Esau whose intension was to kill him. At that night, he catches a dream of the ladder, angels descending and ascending. And he saw the Lord there above who spoke to him (Genesis 28:10-14). Jacob's dream of ladder is a picture of general life situation. It also has ''Thy Kingdom come realities'' . It can mean so many things in the context of realities of life. It can also carry apocalyptic connotation, a devastating place to be. Or we can dare to say the ladder could mean a point of transformation, a life changing, a turning point for you, for good. You must decide. When? time might not be on your side!
A Time of Prayer
During the season of Pentecost, "Thy Kingdom Come". Prayers are made to invite people to come to together to pray for at least five people that you wish to see come into the faith.
We are encouraged during this season to allow God's Holy Spirit to work in us. Let's pray, then as the spirit of God leads and in the context of our modern realities.
It is time now to mention in your prayers anyone in your family that you want to come to Christ, countries that Christianity and other religions are suppressed, those who serve us in various levels of governments to encounter awesomeness of God's presence and be able to serve humanity with love humility and respect, accountability, and transparency.  remembering people and countries affected by the covid19 in both small and large scale.
Pray for conflict-war torn countries, those injured or lost lives during Easter festivities.
Pray for the sick, grieving, pray for children doing national examination, pray for those who provide care and love, pray for key workers in health, transport, hospitality, Security, and Pastoral Church work.  be thankful in everything.
We have brought these prayers in the name of our risen Saviour Jesus Christ. 
Amen.
Please use the version that you prefer
Our Father, who art in heaven,
hallowed be thy Name,
thy kingdom come,
thy will be done,
on earth as it is in heaven.
Give us this day our daily bread.
And forgive us our trespasses,
as we forgive those who trespass against us.
And lead us not into temptation,
but deliver us from evil.
For thine is the kingdom,
the power, and the glory,
for ever and ever.
Amen.
Our Father in heaven,
Hallowed be your name,
Your kingdom come,
Your will be done,
On earth as in heaven.
Give us today our daily bread.
Forgive us our sins
As we forgive those who sin against us.
Save us from the time of trial
And deliver us from evil.
For the kingdom, the power
and the glory are yours
Now and for ever.
Amen.
Hymn: Living hope by Resurrecting God Singers
Hallelujah! Praise the One who set me free!
Hallelujah! Death has lost its grip on me.
You have broken every chain.
This salvation in Your name
Jesus Christ, my living hope
Jesus Christ, my living hope
Then came the morning.
That sealed the promise.
Your buried body
Began to breathe.
Out of the silence
The roaring Lion
Declared the grave.
Has no claim on me. –      
Copyright @ Resurrecting God Singers
A prayer of blessing– (based on Jude 24-25)
To him who can keep you from stumbling and to present you before his glorious presence without fault and with great joy – to the only God our Saviour be glory, majesty, power, and authority, through Jesus Christ our Lord, before all ages, now and for evermore!
Amen.
Listen to "Risen" by Shawna Edwards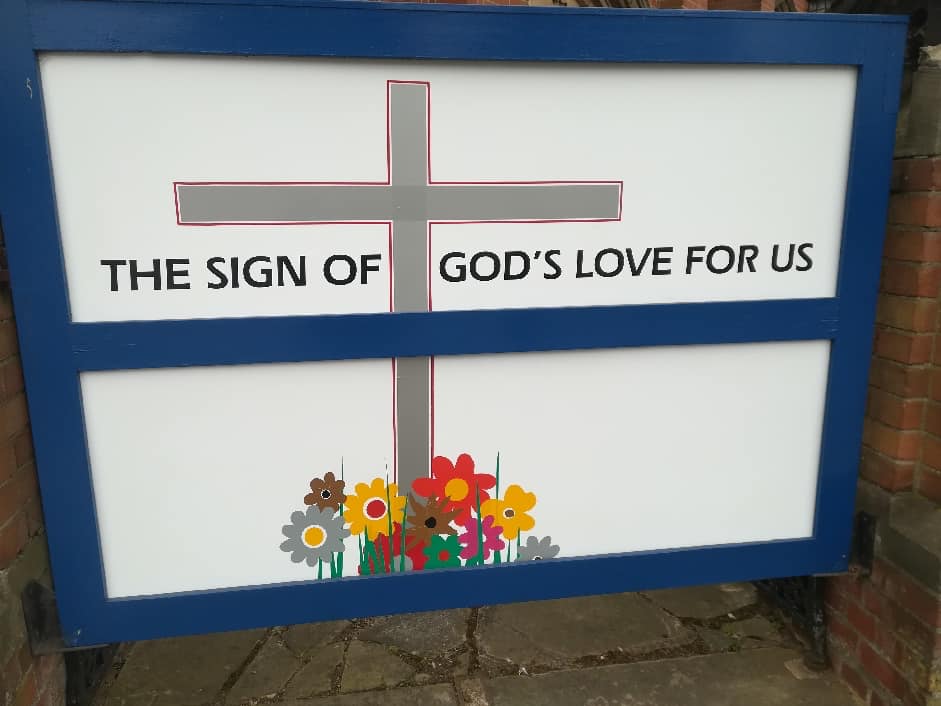 Service prepared by Rev Francis M'Itiiri
Webpage: Paul Deakin