Worship for 11th April 2021
"Jesus Appears to His Disciples" flickr photo by Bringing the Word to the World https://flickr.com/photos/49102781@N03/4500700972 shared under a Creative Commons (BY-NC-ND) license
To listen to the sermon and a hymn dial
01604 266000.
Sunday 11th April
Rev Francis M'Itiiri has prepared this week's message
This short act of worship is for use from home.  Please use this service whenever you like during the week.
Pause to settle yourself in God's presence, knowing that other people are sharing in worship with you.
Download the Service Sheet
© ROOTS for Churches Ltd www.rootsontheweb.com. Reproduced with permission.
Call to Worship.
Come with joy to meet our risen Lord Jesus. 
Come with all creation to praise and glorify His blessed name.
He is our Lord, Our resurrection, and our life.
I was lost with a broken heart
You picked me up, now I'm set apart
From the ash I am born again
Forever safe in the Saviour's hands
You are more than my words could say.
I'll follow You Lord for all my days.
I'll fix my eyes, follow in Your ways.
Forever free in unending grace.
Cause You are, you are, you are my freedom!
We lift You higher, lift You higher.
Your love, your love, your love never ending.
Oh oh oh
You are alive in us.
Nothing can take Your place.
You are all we need.
Your love has set us free.
In the midst of the darkest night
Let Your love be the shining light!
Breaking chains that were holding me
You sent Your Son down and set me free.
Everything of this world will fade.
I'm pressing on till I see Your face.
I will live that Your will be done.
I won't stop till Your Kingdom come.
Let us pray together:
Gracious God,
We praise and adore you for all  the gift of creation, seen all around us in the beauty of springtime; for flowers, trees in bloom, for new life emerging and warm sunny days.
We praise you for Christ's resurrection and the gift of the Holy Spirit who walks alongside us and guides and sustains us through our every waking hour.
We pray through and in the name of Jesus.
Amen.
Bible Reading
New International Version – UK
Jesus appears to his disciples
19 On the evening of that first day of the week, when the disciples were together, with the doors locked for fear of the Jewish leaders, Jesus came and stood among them and said, 'Peace be with you!' 20 After he said this, he showed them his hands and side. The disciples were overjoyed when they saw the Lord.
21 Again Jesus said, 'Peace be with you! As the Father has sent me, I am sending you.' 22 And with that he breathed on them and said, 'Receive the Holy Spirit. 23 If you forgive anyone's sins, their sins are forgiven; if you do not forgive them, they are not forgiven.'
Jesus appears to Thomas
24 Now Thomas (also known as Didymus), one of the Twelve, was not with the disciples when Jesus came. 25 So the other disciples told him, 'We have seen the Lord!'
But he said to them, 'Unless I see the nail marks in his hands and put my finger where the nails were, and put my hand into his side, I will not believe.'
26 A week later his disciples were in the house again, and Thomas was with them. Though the doors were locked, Jesus came and stood among them and said, 'Peace be with you!' 27 Then he said to Thomas, 'Put your finger here; see my hands. Reach out your hand and put it into my side. Stop doubting and believe.'
28 Thomas said to him, 'My Lord and my God!'
29 Then Jesus told him, 'Because you have seen me, you have believed; blessed are those who have not seen and yet have believed.'
The purpose of John's gospel
30 Jesus performed many other signs in the presence of his disciples, which are not recorded in this book. 31 But these are written that you may believe that Jesus is the Messiah, the Son of God, and that by believing you may have life in his name.
Holy Bible, New International Version® Anglicized, NIV® Copyright © 1979, 1984, 2011 by Biblica, Inc.® Used by permission. All rights reserved worldwide.
Time to Reflect…
The disciples must have been baffled, seeking clarity and explanation, as to what had happened in the tomb where Jesus was buried. Resurrection and the Easter story makes us think, and often presents us with gaps that we can't quite connect but only by exploring various perspectives in the context of that time.
Now out of fear, and feeling of betrayal by the Jewish leaders, who together with the Romans schemed Crucifixion  of Jesus their master; they decided to lock themselves inside a room.  They found themselves leaderless, lost, and lonely! Can you imagine what it must have been like? Of course, you can. This reminds us also on times we placed our faith into someone or something, only to be left heartbroken, abused, neglected, or cheated. Take a moment to think about a time when you felt  betrayed by someone,  authority, or an ideology. Or as something similar to this occurred to you ? How did you feel ? What did you do?
In Verses 21 of John 20, the disciples, in their fears, Jesus appeared to them with their doors locked and said to them  four of the most profound, beautiful, and necessary words we would love to hear, "Peace be with you!" 22 And with that he breathed on them and said, "Receive the Holy Spirit. 23 If you forgive anyone's sins, their sins are forgiven; if you do not forgive them, they are not forgiven." These verses are almost in alignment with Jesus great commission found in both Mark 16, Luke 24 and Matthew 28 to continue doing the work of lord Jesus Christ our chief shepherd. 
It is our prayers that we can listen to  the words of Jesus, to bring us peace and hope in the present difficult times .
Now, since sometimes sermons have no end, a question likely not to get a quick answer was why the disciples really stayed behind locked doors . Doors which in themselves could not have helped them escape from whatever trouble that awaited them. Perhaps, were the closed doors meant to keep intruders away?  Was closed doors some kind of defensive mechanism? Could the closed doors stop Roman soldiers and the Jewish leaders getting at them? If the tomb couldn't withstand Jesus, then not even the closed doors of disciples could have prevented Jesus appearing to them.
Just as Jesus empowered the disciples by his spirit to take the message of forgiveness, peace and reconciliation, may we equally be found obedient during this Easter season taking the good news to those who have been disappointed by the present world.
The Resurrection story makes our Easter even brighter.
Happy Easter to everyone..
Quietly, let us join in prayer….
for those who have put their faith in someone or something, only to be left heartbroken, abused, neglected, or cheated or even betrayed.
Come Lord, Jesus
breathe your Spirit to our situations.
 We bring prayers for those who feel too lonely to be around others; too beaten to be healed; too embarrassed to take another risk; too heartbroken to ever love again.
Come Lord, Jesus
breathe you spirit to our situations.
Let us pray for the sick, for people amongst us and those we are aware who are awaiting a medical diagnosis or requiring a new prescription, a treatment, or surgery.
We pray for those who very serious concerns about what their friends are going through; or loved one; we pray for those who in unusual circumstances find themselves in abusive relationship; we bring these concerns to our God in prayer and with hope that God will help them go through with great victory.
Come Lord, Jesus
breathe your overcoming Spirit in them.
Loving God, you have called your church into this world to, breath in worship, and breath out in learning and caring, in service and mission. breathe your Holy Spirit to send away chaos and confusion from this life, breath your spirit to make every believer of God to be a vessel of and instruments of healing in strained relationships, forgiveness, and reconciliations to those who cannot see each other eye to eye, including strained diplomatic relationships in some of the nations of the  world.
We pray and forgive those who harm, terrify, and threaten us. Enables us now Lord and in the spirit of resurrection strengthen us to encourage and inspire those affected in so many ways by the prevailing circumstances.  We bring these prayers in the name of Jesus.
Amen.
Please use the version that you prefer
Our Father, who art in heaven,
hallowed be thy Name,
thy kingdom come,
thy will be done,
on earth as it is in heaven.
Give us this day our daily bread.
And forgive us our trespasses,
as we forgive those who trespass against us.
And lead us not into temptation,
but deliver us from evil.
For thine is the kingdom,
the power, and the glory,
for ever and ever.
Amen.
Our Father in heaven,
Hallowed be your name,
Your kingdom come,
Your will be done,
On earth as in heaven.
Give us today our daily bread.
Forgive us our sins
As we forgive those who sin against us.
Save us from the time of trial
And deliver us from evil.
For the kingdom, the power
and the glory are yours
Now and for ever.
Amen.
Song: What a beautiful name
or sing a verse of a hymn that comes to mind.
You were the Word at the beginning.
One with God the Lord Most High
Your hidden glory in creation
Now revealed in You our Christ
What a beautiful Name it is
What a beautiful Name it is
The Name of Jesus Christ my King
What a beautiful Name it is
Nothing compares to this.
What a beautiful Name it is
The Name of Jesus
You didn't want heaven without us.
So, Jesus You brought heaven down.
My sin was great Your love was greater.
So, what could separate us now?
copyright@Tabernacle choir
A prayer of blessing
Loving Lord God, give us your people your peace that we may shine brightly in a dark world. Grant us the courage to live faithfully even during hard times. Show Your mercy and heal those who are suffering in Your fallen creation.
Most of all Lord, come. Restore the world You have made and make all things new. We pray that Your will would be done. Amen
Listen to "Risen" by Shawna Edwards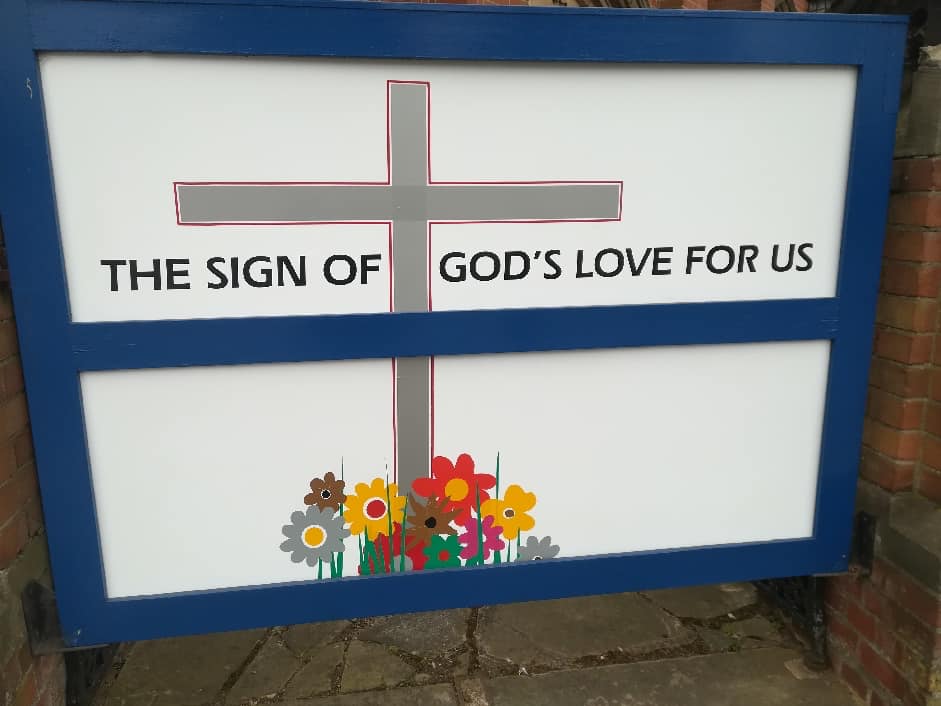 Service prepared by Rev Francis M'Itiiri
Webpage: Paul Deakin