Worship for 7th February 2021
To listen to the sermon and a hymn dial
01604 266000.
Sunday 7th February 10:30 AM
(or whenever you wish)
This week's message has been prepared by Deacon Richard Beckett.
This short act of worship is for use from home.  Pause to settle yourself in God's presence, knowing that other people are sharing in worship with you.
Download the Service Sheet
© ROOTS for Churches Ltd www.rootsontheweb.com. Reproduced with permission.
Opening Prayer
Lift your eyes to gaze on God.
Hear God's Word and receive God's peace.
With all that you have been, all that you are,
and all that you hope to be, offer yourself now to God in worship and praise. 
Amen
StF 73: 'Fill thou my life, O Lord my God'
Fill thou my life, O Lord my God,
in every part with praise,
that my whole being may proclaim
thy being and thy ways.
Not for the lip of praise alone,
nor even the praising heart,
I ask, but for a life made up
of praise in every part:
Praise in the common things of life,
its goings out and in,
Praise in each duty and each deed,
However small and mean.
Fill every part of me with praise;
Let all my being speak
Of thee and of they love, O Lord,
Poor though I be, and weak.
So shalt thou, Lord, from me, even me,
Receive the glory due,
And so shall I begin on earth
The song for ever new.
So shall no part of day or night
from sacredness be free,
but all my life, in every step,
be fellowship with thee.
Horatius N. Bonar (1808 – 1889).
A Prayer of Confession:
People. People. Everywhere! Day in. Day out.  Seeking you, Lord. Hunting you. Following you.  Hungry for your presence. Wanting your attention. 
Yet not once did you complain. 
We're sorry, Lord, that the weight of life's demands causes us to stumble, 
to lose our temper and at times to buckle under the pressure. 
Help us to be more like you, Lord. 
We're sorry for not getting our priorities right. 
Help us to know, as you did, 
the importance of spending time with and drawing refreshment from the Father. 
We're sorry for allowing other people and things to take over and squeeze out our time with you. 
Help us to draw daily on your refreshing strength in order to cope with whatever our day holds.

Lord, hear our prayer. Amen.
Bible Reading
New Revised Standard Version, Anglicised
Jesus Heals Many at Simon's House
29 As soon as they left the synagogue, they entered the house of Simon and Andrew, with James and John. 30 Now Simon's mother-in-law was in bed with a fever, and they told him about her at once. 31 He came and took her by the hand and lifted her up. Then the fever left her, and she began to serve them.
32 That evening, at sunset, they brought to him all who were sick or possessed with demons. 33 And the whole city was gathered around the door. 34 And he cured many who were sick with various diseases, and cast out many demons; and he would not permit the demons to speak, because they knew him.
A Preaching Tour in Galilee
35 In the morning, while it was still very dark, he got up and went out to a deserted place, and there he prayed. 36 And Simon and his companions hunted for him. 37 When they found him, they said to him, 'Everyone is searching for you.' 38 He answered, 'Let us go on to the neighbouring towns, so that I may proclaim the message there also; for that is what I came out to do.' 39 And he went throughout Galilee, proclaiming the message in their synagogues and casting out demons.

New Revised Standard Version Bible: Anglicised Edition, copyright © 1989, 1995 the Division of Christian Education of the National Council of the Churches of Christ in the United States of America. Used by permission. All rights reserved.
Richard reflects:
When you think of Jesus – what image comes to mind?
What attracts you to Jesus? What is the Jesus of history and the risen Jesus asking of you?
Who is Jesus to you?
One wise little six year old when asked the question "Who is Jesus?' replied, "Like God with skin on!"
At the beginning of Mark's gospel especially in the verses we read today Jesus seems to be pulled in many directions as people clamour for his attention, eager to meet this teacher-healer whose reputation preceded him.
Within these few short verses Jesus frees people from demons, heals Simon's mother-in-law specifically and many others, eats with friends, spends time in prayer and prepares to move on to other places. I'm exhausted just reading this!
Jesus' disciples were not yet sure who Jesus was or what his mission was. At first reading we might think that all this attention meant success for Jesus' mission. It's not to say that these miraculous healings and casting out of demons were not important – they certainly expressed clearly the compassion God had for people through Jesus.
But the people in Capernaum had made their decision about who Jesus was – they were attracted to him because of the miracles he performed.
However – Jesus' mission was more than this. It was not just about attracting people to a performer of miracles. It was about changing hearts and minds. Mark Chapter 1 verse 15, makes this clear when Jesus says: "The Kingdom of God is near, repent and believe the good news".
Even Jesus' closest followers had not quite seen this yet. In verse 37, they are reproachful of Jesus for leaving the crowds and finding a solitary place for prayer as they call him back almost as if to say "What are you doing here, when all are clamouring for your attention!"
So let me ask the question again: Who is Jesus to you?
So often we might only see the Jesus who responds to our immediate and pressing needs and we raise our voices in prayer for healing or deliverance. And it is right that we do that but we can miss Jesus' message of repentance which is so similar to that of John the Baptist.
A message which demands a change of heart: a turning around of our lives; a more prayerful way of making decisions; living life differently; forgiving more often; spending more time in prayer and speaking out against injustice.
So come and follow Jesus,
You who have committed yourselves already,
and you who would like to do so for the first time;
you who have given yourselves to the care of creation,
and to the suffering ones of the world,
and you who feel moved by the Spirit
to begin to offer yourselves;
you who have been faithful in your life commitments,
and you who have failed.
Come, for our Lord invites us to follow him,
and to make new beginnings in our lives.
(Ioana Abbey Worship)
StF567: 'You are the centre, you are my life'

You are the centre, you are my life,
You are the centre, O Lord, of my life.
Come, Lord, and heal me, Lord of my life.
Come, Lord and teach me, Lord of my life.
You are the centre, Lord, of my life.
Give me your Spirit and teach me your ways,
Give me your peace, Lord, and set me free.
Prayer of intercession:-
Gracious God, we lift our prayers to you for those who are sick: Healing God, bring wholeness of mind, body and spirit.
We bring our prayers for those who are hungry and thirsty: God of abundance, provide the means by which all can be fed.
We bring our prayers for those who misuse power: God of love, encourage humility and service.
We bring our prayers for those who are abused: Listening God, bring justice and a path through chaos.
We bring our prayers for the bereaved: Compassionate God, bring comfort in times of loss.
We bring our prayers for………………  Amen
Please use the version that you prefer
Our Father, who art in heaven,
hallowed be thy Name,
thy kingdom come,
thy will be done,
on earth as it is in heaven.
Give us this day our daily bread.
And forgive us our trespasses,
as we forgive those who trespass against us.
And lead us not into temptation,
but deliver us from evil.
For thine is the kingdom,
the power, and the glory,
for ever and ever.
Amen.
Our Father in heaven,
Hallowed be your name,
Your kingdom come,
Your will be done,
On earth as in heaven.
Give us today our daily bread.
Forgive us our sins
As we forgive those who sin against us.
Save us from the time of trial
And deliver us from evil.
For the kingdom, the power
and the glory are yours
Now and for ever.
Amen.
StF 471: 'Lord I come to you'
Lord I come to You
Let my heart be changed, renewed
Flowing from the grace
That I have found in You
And Lord I have come to know
The weaknesses I see in me
Will be stripped away
By the power of Your love
Hold me close, let Your love surround me
Bring me near, draw me to Your side
And as I wait, I will rise up like the eagle,
And I will soar with You
Your Spirit leads me on
In the power of Your love
Lord unveil my eyes
Let me see You face to face
The knowledge of Your love
As You live in me
And Lord renew my mind
As Your will unfolds in my life
In living every day
By the power of Your love.
Sending out prayer
Lord Jesus,
go with us into the world this week.
Help us to remain focused upon you
and to make your priorities our priorities in
all the places you are sending us.
Amen.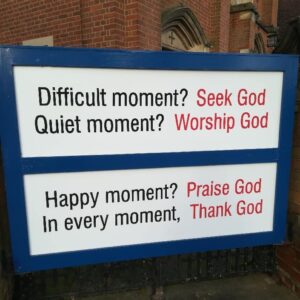 Service prepared by Deacon Richard Beckett
Some material adapted from Roots for Churches
Webpage: Paul Deakin
Please do look at the new resource from Roots that we will now be publishing each week on the Worship at Home page. The weekly PDF can be downloaded by clicking on the green button that will be included at the top of the page.
From Roots:
What is it?
A weekly resource packed with ideas to send out to your church community.
It offers a wide and varied range of activities for people to choose each week – e.g. things to make, bake, read, watch – helping them to weave faith into everyday life.
It's available as a PDF, so it's easy to distribute – email it, print it, or share it on your website.
Who is it for?
Ideas are usable across a wide range of ages – making it possible for households to do activities together.
The materials in ROOTS at home are completely different to the ROOTS weekly resources. This means that you can use the ROOTS at home resource in two ways:
to help those who have attended a gathering to explore ideas further
and/or to share with those who could not join you.
Supporting those with no Bible at home
On the back of each sheet, we provide both a children's and adult's version of the relevant Bible reading – and add a glossary where necessary.