Worship for 16th August 2020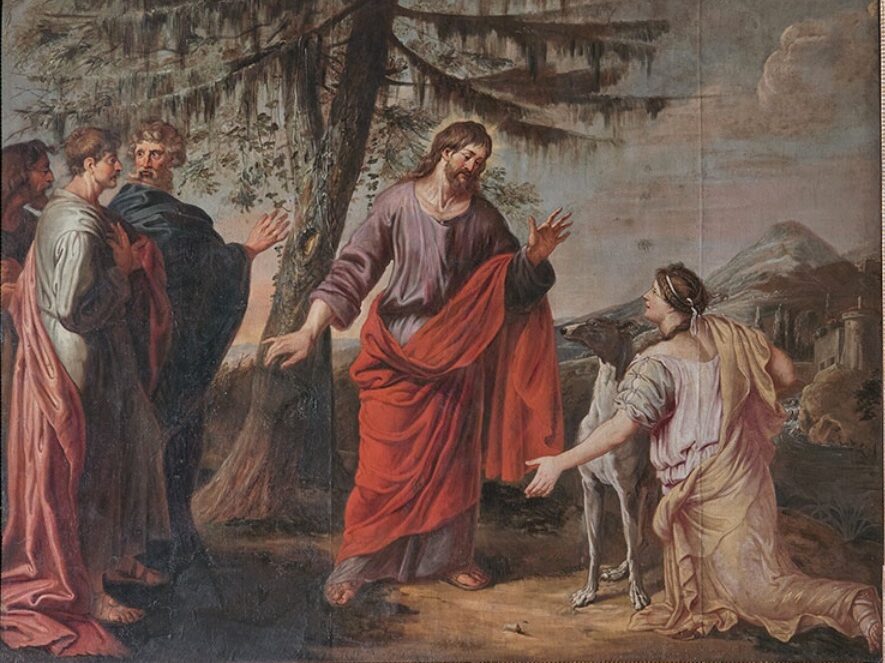 The faith of a Canaanite woman
Try our new free dial-in service to listen to the sermon and a hymn – 01604 266000.
Sunday 16th August 10:30 AM
(or whenever you wish)
This week's message has been prepared by local preacher Linda Leathersich.
This short act of worship is for use from home.  Pause to settle yourself in God's presence, knowing that other people are sharing in worship with you.
Download the Service Sheet
Download the Family Activities
Opening Prayer
In the Christian Church there is no difference between rich and poor, slave and free,
male and female.
All are alike to God, all equally loved by him.
As we come together to worship,
we ask that you will help us
to be still and to open our ears, our eyes
and our hearts to receive your love
and your word for each one of us.
Amen.
HYMN – STF 685 In Christ there is no east or west
In Christ there is no east or west,
In him no south or north
But one great fellowship of love
Throughout the whole wide earth.
In him shall true hearts everywhere
Their high communion find;
His service is the golden cord
Close-binding humankind.
Join hands then, people of the faith,
Whate'er your race may be;
Who serves my Father as his child
Is surely kin to me.
In Christ now meet both east and west,
In him meet south and north;
All Christlike souls are one in him,
Throughout the whole wide earth
Prayer:
O loving God of all people, we come to worship you because you make us one great rainbow family, with different gifts and abilities, ages and experiences, backgrounds and insights.
Loving God of all people we come to rejoice in your power which overcomes the barriers we build between ourselves
O God of all people, we come to celebrate together, to receive your forgiveness of our sins and to hear your word of reassurance and love.
Lord we need your help if we are to live together in unity and love. Too often, our prejudices, fears and false pride create divisions between us and stop us loving one another as we know we should. Lord you know what is in our hearts and we ask that you will forgive us for anything that makes us feel better than others. Take away the thoughts that build barriers and help us to respect, enjoy and care for one another. We ask in the name of Jesus who died to break down the barriers of sin. 
Amen.
HYMN STF 424 God forgave my sin in Jesus' name
God forgave my sin in Jesus' name
I've been born again in Jesus' name,
And in Jesus' name I come to you
To share his love as he told me to.
He said:
"Freely, freely you have received,
Freely, freely give;
Go in my name and because you believe,
Others will know that I live"
All power is given in Jesus' name
In earth and heaven in Jesus' name;
And in Jesus' name I come to you
To share his power as he told me to.
He said:
"Freely, freely you have received,
Freely, freely give;
Go in my name and because you believe,
Others will know that I live"
New International Version – UK
10 Jesus called the crowd to him and said, 'Listen and understand. 11 What goes into someone's mouth does not defile them, but what comes out of their mouth, that is what defiles them.'
12 Then the disciples came to him and asked, 'Do you know that the Pharisees were offended when they heard this?'
13 He replied, 'Every plant that my heavenly Father has not planted will be pulled up by the roots. 14 Leave them; they are blind guides. If the blind lead the blind, both will fall into a pit.'
15 Peter said, 'Explain the parable to us.'
16 'Are you still so dull?' Jesus asked them. 17 'Don't you see that whatever enters the mouth goes into the stomach and then out of the body? 18 But the things that come out of a person's mouth come from the heart, and these defile them. 19 For out of the heart come evil thoughts – murder, adultery, sexual immorality, theft, false testimony, slander. 20 These are what defile a person; but eating with unwashed hands does not defile them.'
The faith of a Canaanite woman
21 Leaving that place, Jesus withdrew to the region of Tyre and Sidon. 22 A Canaanite woman from that vicinity came to him, crying out, 'Lord, Son of David, have mercy on me! My daughter is demon-possessed and suffering terribly.'
23 Jesus did not answer a word. So his disciples came to him and urged him, 'Send her away, for she keeps crying out after us.'
24 He answered, 'I was sent only to the lost sheep of Israel.'
25 The woman came and knelt before him. 'Lord, help me!' she said.
26 He replied, 'It is not right to take the children's bread and toss it to the dogs.'
27 'Yes it is, Lord,' she said. 'Even the dogs eat the crumbs that fall from their master's table.'
28 Then Jesus said to her, 'Woman, you have great faith! Your request is granted.' And her daughter was healed at that moment.
Holy Bible, New International Version® Anglicized, NIV® Copyright © 1979, 1984, 2011 by Biblica, Inc.® Used by permission. All rights reserved worldwide.
Message: from Linda Leathersich
Good morning, it is good to share some thoughts with friends from the circuit.
The reading is in two parts, both parts contain quite shocking statements by Jesus. In the first half, we hear of Jesus confronting the Jews about what makes a person "clean" or "unclean". It would have been a real attack on all they believed and on their religion – all their rules were written in the Law and it was sacred to them. They had hundreds of rules covering cleanliness and about the correct way of washing – right now we can appreciate the necessity of correct handwashing for our health, it is now a ritual for all of us. For the Jews it was so much more and so imagine how they felt when Jesus said that they had it all wrong. He said that God had made everything and he loved all that he made and he could not make anything that was unclean
Being acceptable to God has nothing to do with outward cleanliness but what was in the heart. Following all the rituals of washing was useless if your heart was full of bitterness. Thomas Aquinas said, "Man sees the deed, God sees the intention" We can hide nothing from God and having a clean heart is more important than all the trappings of religion.
The second part of the reading finds Jesus venturing for the first time out of Jewish territory and contains the first indication that the Gospel was to be opened to everyone. Jesus had gone there to find peace to teach his disciples but he was approached by a Canaanite woman, a Gentile. I was shocked when I first read the passage, was this the same Jesus who said everyone was equal and we should love one another? Jesus ignored her but she persisted because she loved her daughter and somehow she knew that this man could heal her. Maybe she could see the compassion in his eyes or hear the tone in his rejection. Talking of tossing bread to the dogs and crumbs under the table reminds me of the lovely prayer in the Communion service. Fortunately for us, God's love and mercy have nothing to do with us being "worthy", it has to do with what is in our heart and our relationship with God. When Jesus saw that the woman had love and faith in her heart, he granted her request.
The good news for us is that we are loved equally and unconditionally by our amazing God and we are invited to share his banquet and not eat crumbs. The invitation is for everyone, what is your response? 'We have to find ways to fill our hearts with love and faith so that we can pass on the invitation to others and to do whatever we can to break down barriers and end divisions.
Gracious God, we pray that you will draw us closer to you and to those around us overcoming whatever keeps us apart and uniting us in love. Amen.
Prayers of Intercession
Loving God, remind us that whoever we are, great or small, weak or strong, you value us equally, each having a place in your purpose.
 -In a moment of quiet, let's just pause and think about all the divisions in our world, our country and our families and pray that God will heal them……..
– And now let's pause and name in our hearts the people we know and love who need God's love at this time…….
Lord we stand amidst the wreckage of a world too often at war, communities too often in dispute, and lives too often in despair. But we hold to the vision that you will wipe away every tear from our eyes, and mourning and crying and pain will be no more, for those things will have passed away.
Until then, O God, we ask you to keep the peace and carry the load, and show us how to do that too, so that finally we may all be called the children of God who followed the Son. Let's bring our prayers together in the words of the Lord's Prayer –
Please use the version that you prefer
Our Father, who art in heaven,
hallowed be thy Name,
thy kingdom come,
thy will be done,
on earth as it is in heaven.
Give us this day our daily bread.
And forgive us our trespasses,
as we forgive those who trespass against us.
And lead us not into temptation,
but deliver us from evil.
For thine is the kingdom,
the power, and the glory,
for ever and ever.
Amen.
Our Father in heaven,
Hallowed be your name,
Your kingdom come,
Your will be done,
On earth as in heaven.
Give us today our daily bread.
Forgive us our sins
As we forgive those who sin against us.
Save us from the time of trial
And deliver us from evil.
For the kingdom, the power
and the glory are yours
Now and for ever.
Amen.
HYMN – STF 251 – Jesus Christ is Waiting
Jesus Christ is waiting, waiting in the streets;
No one is his neighbour, all alone he eats.
Listen, Lord Jesus, I am lonely too.
Make me, friend or stranger, fit to wait on you
Jesus Christ is raging, raging in the streets,
Where injustice spirals and all hope retreats.
Listen, Lord Jesus, I am angry too.
In the Kingdom's causes Let me rage with you.
Jesus Christ is healing, Healing in the streets;
Curing those who suffer, touching those he greets.
Listen, Lord Jesus, I have pity too.
Let my care be active, Healing just like you.
Jesus Christ is dancing, Dancing in the streets,
Where each sign of hatred He, with love, defeats.
Listen, Lord Jesus, I should triumph too.
On suspicion's graveyard Let me dance with you.
Jesus Christ is calling, calling in the streets,
"Come and walk faith's tightrope, I will guide your feet."
Listen, Lord Jesus, let my fears be few.
Walk one step before me; I will follow you.
©1988  WGRG, Iona Community, Govan, Glasgow G51 3UU, Scotland
BLESSING.
May the grace of our Lord Jesus Christ,
The love of God, and the fellowship of the Holy Spirit be with us all, evermore.  Amen.
Service by Linda Leathersich, Local Preacher
Sheet format – Revd Phil Snelson.  
Webpage: Paul Deakin