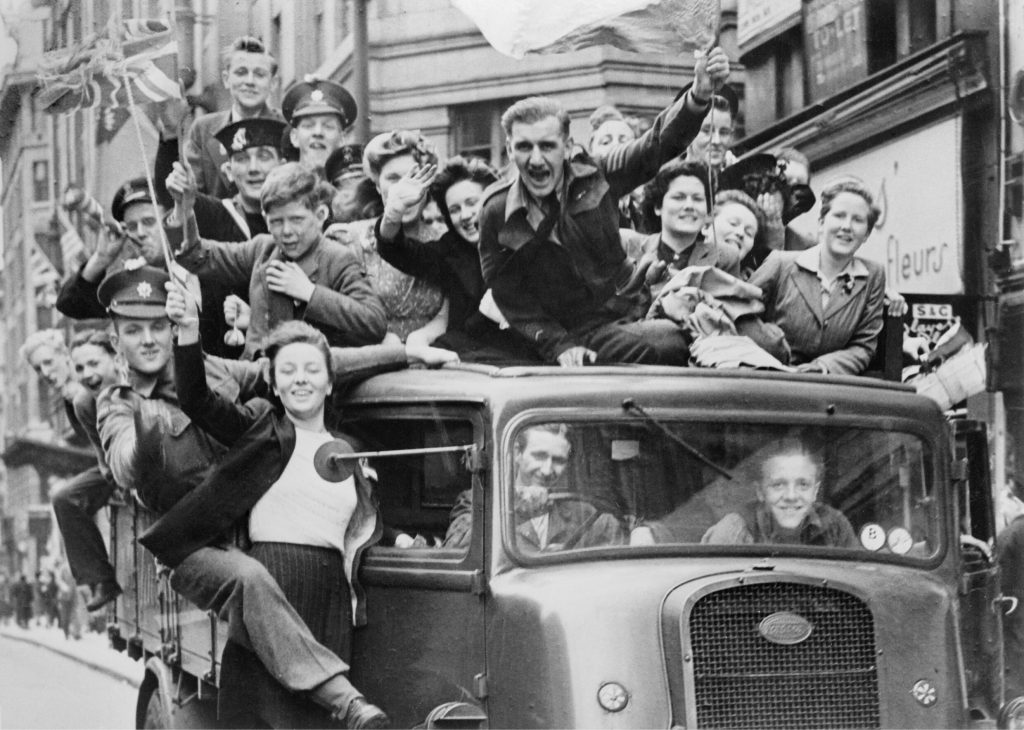 Friday 8th May
(or whenever you wish)
A short act of worship for use in commemoration of VE Day.
Download the Service Sheet
Opening Prayer
God is our refuge and our strength:
always ready to help in time of trouble.
(Psalm 46:1)
We take time now to commemorate the 75th anniversary of Victory in Europe when the sounds of war fell silent on this continent and we remember the many who gave their lives restraining evil and opposing tyranny, and give thanks in our own silence for our freedom:
Silence
A Reading from Micah 4: 1-4
In the last days, the mountain of the Lord's house will be the highest of all – the most important place on earth.  It will be raised above the other hills, and people from all over the world will stream there to worship.
People from many nations will come and say,
"Come, let us go up to the mountain of the Lord, to the house of Jacob's God.
There he will teach us his ways, and we will walk in his paths."  For the Lord's teaching will go out from Zion; his word will go out from Jerusalem.
The Lord will mediate between peoples and will settle disputes between strong nations far away.  They will hammer their swords into ploughshares and their spears into pruning hooks.  Nation will no longer fight against nation, nor train for war anymore.
Everyone will live in peace and prosperity,
enjoying their own grapevines and fig trees, for there will be nothing to fear.  The Lord of Heaven's Armies has made this promise!
A Prayer of Confession
Loving and gracious God,
We ask Your forgiveness for the sin and the desire to dominate others that leads to conflict between people, and war between nations.  We pray for all those who are victims of war, wounded and scarred, for Your continued help, comfort, and strength.
Through our Lord and Saviour, Jesus Christ, Amen.
Prayer of Thanks
On that first Victory day, people celebrated with joy, glad of each other's company, and grateful for the laughter and love that follows times of sadness and loss. At this moment we too are reminded of the value of each other.
Loving God,
we give You thanks for the years of peace that the nations of Europe have enjoyed since the Second World War and we ask for Your healing on our land and across our world in these days.
As we remember, teach us the ways of peace.
As we treasure memories, teach us to hope.
As we give thanks for the sacrifices of the past,
help us to make Your future in this world,
until Your kingdom come. Amen.
A Collect for Peace
Almighty God,
from whom all thoughts
of truth and peace proceed:
kindle in the hearts of all people
the true love of peace;
and guide with your pure and peaceable wisdom those who take counsel for
the nations of the earth;
that in tranquillity your kingdom
may go forward,
till the whole earth is filled
with the knowledge of your love;
through Jesus Christ our Lord. Amen.
The Lord's Prayer
But above all things, let us pray that God's will may be done on earth as it is in heaven, as we join our prayers together and say:
Our Father, who art in heaven,
hallowed be thy Name,
thy kingdom come,
thy will be done,
on earth as it is in heaven.
Give us this day our daily bread.
And forgive us our trespasses,
as we forgive those who trespass against us.
And lead us not into temptation,
but deliver us from evil.
For thine is the kingdom,
the power, and the glory,
for ever and ever.
Amen.
A Prayer of Blessing
May God grant to the living, grace;
to the departed, rest;
to the world, peace;
and to us and all the faithful, life everlasting;
and the blessing of God,
the Father, the Son, and the Holy Spirit,
be with us now and ever more.
Amen.
Order of service leaflet compiled by Rev'd Phil Snelson.
Some prayers adapted from Church of England Resources